WORD:
RESET
There were some extreme highs and lows in the month of February. The main thing that I walked away was how important it is to reset - take a break - take a breath. When I went for a getaway to Mexico, I realized it was WAY TOO LONG that I took a break. Not just a break from work, but a break from emotional work. I feel like there's this pattern that I do (that I know a lot of you do too), and it's saying yes to so many things - then realizing there's not enough margin for other things that I didn't consider like rest - then having to cut out many things to make space before I seriously burn out. THEN the feeling like I need to prove myself or to do my part kicks in and it starts again. Taking a break from everything for a longer period time then 1 hr seems to be helpful to recalibrate. It doesn't mean that the work isn't good or the opportunities aren't important, but it helps to focus on what is the goal?
Sometimes doing good things can suck the soul out of you. I have learned that everything comes with some sort of cost, and it is necessary to take inventory of what I have to give in that moment. I don't have to pay the physical/emotional cost to say yes to taking on a new project or calling out someone.
The goal for me is to embrace my wholeness and to bring out the wholeness of others. Also in getting rid of self oppression, THAT is a way of advocacy for others too. It isn't helpful for others if I'm burned out and resentful. It IS helpful for me to grieve for what is lost and to celebrate what is gained.
Mexico:
I went to Mexico with Jaclyn Simpson to visit Matt + Stevi Savage and kids. Talking about resetting, I felt my tension melt away in the sun. My knots loosened and my body settled into a sense of newness as I was in the water. IT WAS MAGIC.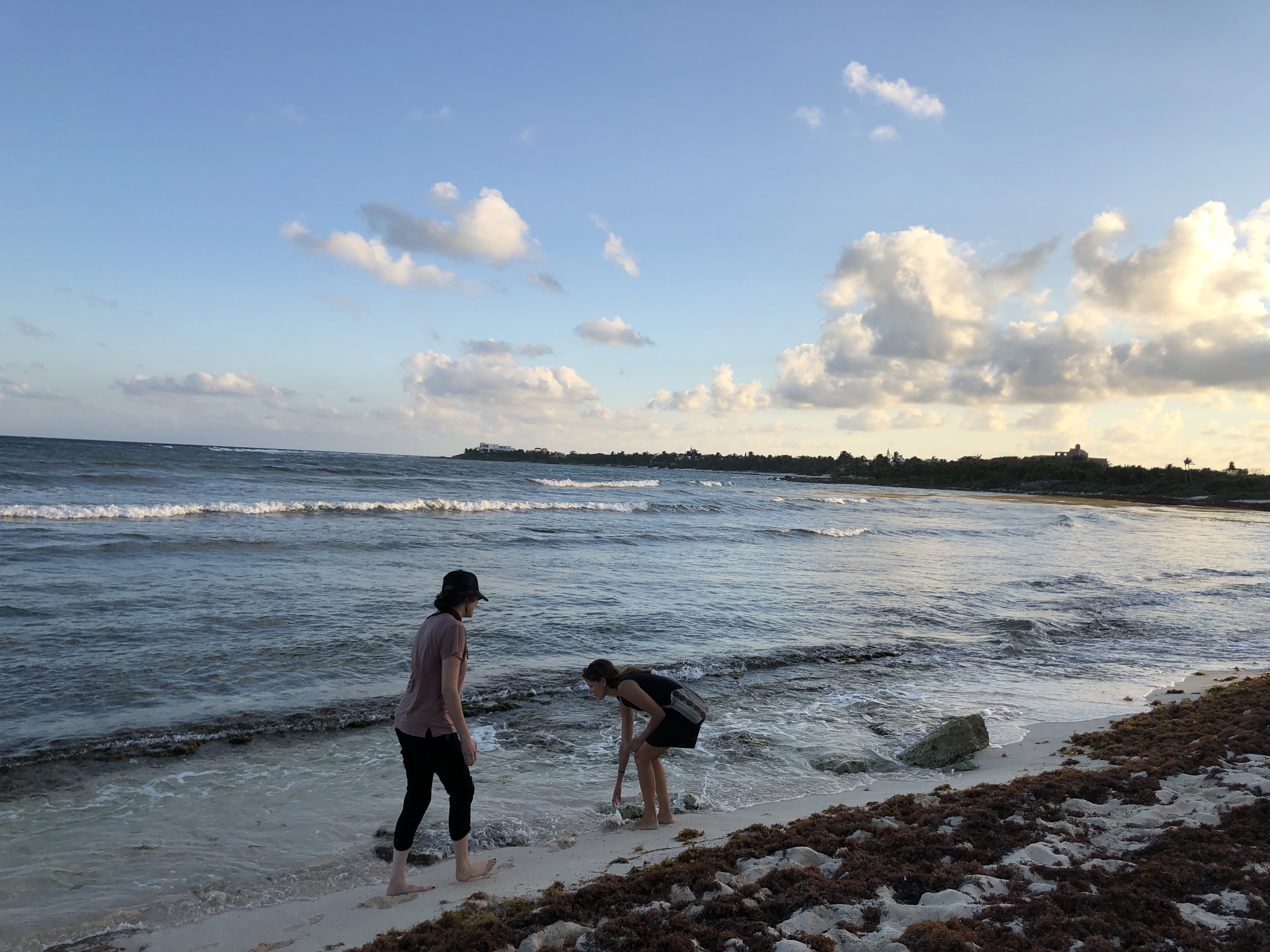 Womxn taking space
Houseshow
Near the end of February, Eliana Blancas and I started an online conversation and this is how I started it:
The houseshow was POWERFUL. There was SO MUCH participation from the audience when we opened it up to dialogue, and there was an astounding sense that this space was needed. SO much so, we are putting on another one! It will be on April 20th! Contact me for more info if you want to attend.
Iwrote the following in an IG post
I've been thinking alot about safe spaces, and how there really isn't such a thing as a completely safe space. When interacting with any human there's a always an element where there is risk of hurt/misunderstanding - especially when it enters discussions about race/misogyny/sexuality etc. And especially when there is vulnerability involved. With openess to be known there is also openess to be hurt.

So what I'm trying to figure out is knowing my own triggers (I'm currently in a very raw place when it comes to race), when is it wise for me to engage in conversation? I know that I want to, because healing and empathy could come from those interactions. BUT what if the other person haven't begun antiracist work? Learning from @wherechangestarted , that process doesn't stop with awareness or education. And also, what if the cost is too high for me when they aren't ready to engage (causing more trauma, more physical pain, more emotional damage)? Basically, I'm trying to navigate how to take care of myself AND make helpful decisions that has integrity WHILE having grace for myself and others. 😳

I loved what @britthawthorne wrote about how she doesn't want to teach her sons to navigate white spaces, but to create spaces for themselves. I feel like I need to teach myself that! How to not center whiteness, but create a place of true and deep "harmony and balance with my words and actions" like what Britt wrote. ❤️
By Teaching tolerance // Cory collins
Ok so I watched the documentary "Leaving Neverland" about Michael Jackson sexually abusing children. It was INTENSE. This podcast episode helped me process the documentary.
book:
by haruki murakami
I blew through this book! It was the perfect getaway novel I needed this month.
Lots of tears:
Christchurch mosque massacre
So much mourning and grief marked March. Islamophobia/white supremacy killed 50 muslims, and it was one of the most heart breaking experiences. Now that almost a month has past, let us not forget the violence that white supremacy has on BIPOC, and I hope that it will boost our energy in putting in our best to fight it on a personal, interpersonal, and systemic level.
Organization:
I have to write about The Conscious kid again! Because they are doing a series called "Kids and Race." It's about the importance of educating our kids well about race and also HOW to do it. Here is a quote from THIS POST. I love this series, because it gives me hope of the next generation. I also love it because it gives me the tools to teaching adults - if a 5 yr old can understand it, an adult can too. With how fragile adults can be, the same knowledge and approach can be applied.
AOKI - a humble beginning
march 31st
I'm so honored to be part of the AOKI team! We put on our first public art event at the end of March, and it was so amazing to see it come together. The artists created an atmosphere of rest and playfulness while preserving excellence and intentionality of their art. It made me so happy watching the participants interact with the art and performances. Make sure to sign up for AOKI's newsletter for the announcement of our next event!
Thank you
I appreciate you and your support!