WORD:
NEW LIFE
November was a month full of celebration, thankfulness, and staying present. Things will constantly go and be wrong, but I was reminded of all the things that are beautiful and GOOD. Both can exist simultaneously along with all the nuance. I'm learning how not to exist in dualistic kind of thinking. Oppression can be addressed and fought against AND I (we) can rest, laugh, enjoy life without shame. With the birth of my first niece, it brought me to a place of exploding overwhelming love. So thankful for my perfect family with all of its imperfections. So thankful to also have friends who are also my family here in Chicago. So thankful to not be alone. So thankful to be known and loved. So thankful for this season. So thankful for having a voice via art.
person:
baby emery
On November 4th, my sister (Ashley) had her first baby! My family's first baby! It has been such an unbelievable experience to hear my sister go through pregnancy and labor, and then to see her as a mother. Ashley is incredibly strong and loving. Going through childbirth was seriously no joke, and I'm so proud of her for enduring such an intense experience.
Meeting Emery was EVERYTHING. She is perfection!! I got to go home to california to stay over at my sister and brother in law's place for 4 days/nights. I got in all the snuggles and I was in heaven. I feel so much love for this little one. Another amazing thing was that I witnessed my grandma who is 93 yrs old meet her first great grandchild for the first time. It was a beautiful to see three generations of amazing women in the same room. So thankful!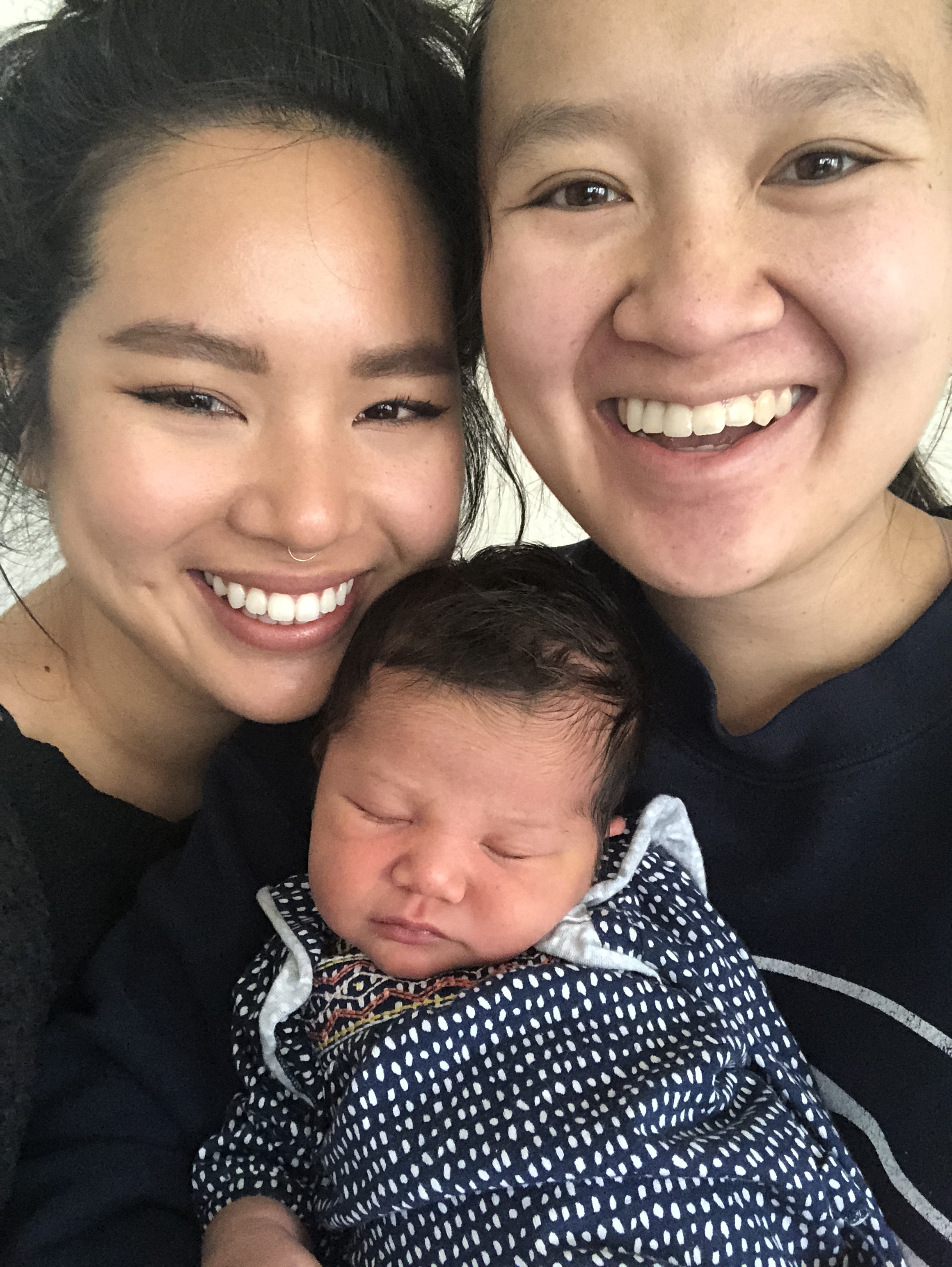 Articles:
by Brianne benness
story:
So this happened, and I wrote about it on Instagram. This kind of thing is less of an inspiration but more of a energizer of why addressing ignorance aka racism is important.
Wow. So yesterday I was in an uber, and the driver was a white man probably in his early 60s. And he asked about what I do and about my art. He talked about learning about modern art for a while (like too long), and then brought up something he read about with a black artist involved. And I shared that my art explores race, identity, and being in America. He was shocked! And then called me "Oriental," which I quickly corrected him that I and Asians don't like being called that - it's offensive to me - because "Oriental" is used to describe objects and not people. I explained that I would like to be referred to as Chinese or Asian. He was silent about it. Then goes on and called me that two more times.
Then proceeds to tell me that ASIANS don't encounter racism and ONLY black people do. !!!!!!! And I said that's absolutely not true!! I've not only seen it many times and have encountered it many times too! He keeps on explaining to me that asians are seen as educated and well respected in America - and that's Asians really aren't oppressed. And then I said that's part of the model minority myth that was put into play to pit Asians against black people - which was post Chinese exclusion act that lasted into the 40s. So what he said is part of systematic racism and a total misconception. And he said that's true that there was racism against Asians in the 40s - but not now. Because no one he knows is racist against Asians, and that "there is not a racist bone in his body." I said "I don't know about that!"
THIS is what I'm talking about when I say well intentioned white people supporting a racism system. I don't care if you're older. It's dangerous. It costs lives. It's violent.
//
I have some new thoughts about this. FIRST: that conversation cost me emotionally/mentally/physically next to nothing. It made me mad of course! But compared to more "mild" conversations I've had to people I know and care about...that conversation with the Uber driver was NOTHING. So I'm learning how to read my body and emotional capacity well, and this was helpful to know.
SECOND: mansplaining and misogyny was very present. He heard what I said (he didn't really listen to me though) and went on to tell me that I was wrong and he didn't believe what I had to say about MY OWN experience. Very very classic. The intersection of my ethnicity and gender contributed to this dynamic (I highly suspect). It's very bizarre when people try to defend their not-racist-badge only to prove the complete opposite.
THIRD: white supremacy usually hides itself behind well meaning "nice" people. The whole conversation was very "nice" toned while the content was very ignorant and racist. This is how racism thrives!
LESSON: if you're EVER defending how you're not racist, you definately are. Allies of POCs are first to admit privilege and biases. They listen. They believe. They are first to yield. They put in the work.
movies:
The movie is about the son of a Baptist preacher who is forced to participate in a church-supported gay conversion program after being forcibly outed to his parents. WOW this movie was heart breaking and really well done. I highly recommend it!
This movie portrays Freddie Mercury beautifully. Go watch it!
show:
I really love Hasan Minaj - this show is informative, thoughtful, AND funny. Watch episode 6 - Immigration Enforcement.
book:
by phoebe robinson
I listened to it on Audible, and I was CRACKING UP the whole time! She is incredibly funny, brilliant, an amazing writer, and a great story teller. Also she interview Michelle Obama on her podcast (with cohost Jessica Williams) 2 Dope Queens - you should definitely check out that EPISODE.
Week 47 of #TWmemorymondays! Today we are going to chat about REVERSE RACISM. #fun
Reverse racism has come up a lot this past year, where there have been many comments and conversations about how POC can be racist against white people. Many many people think that it's possible (which I was surprised by recently about how common this thinking is).
First, let's talk about words/semantics and how important they are. They are important because culture is formed/changed with words and how we use them. So the dictionary definition of racism is "prejudice, discrimination, or antagonism directed against someone of a different race based on belief that ones own race is superior." I can see how people think that racism against white people is possible with this definition. I think that this use of the word "racism" is lacking and in my perspective harmful, because it doesn't include systemic oppression, which seems crucial when talking about racism.
Taking in consideration of our societal structure of white supremacy, the combination of prejudice + power is what makes up racism. So if you're at the top of the power system aka you're white, no matter how much money you have or how many disadvantages you have against you, you are still at the top of the system and are "normal" in the sight of how America has been designed. Therefore, POC's cannot be racist against white people, because we don't have the same power white people were born into (aka white privilege).
What this sounds to a lot of people is that that is discrediting suffering and injustice that white people experience. No one is saying that. POC can be prejudiced against white people for sure, but that doesn't deserve the MINIMALIZATION of systematic oppression of POC by turning a blind eye to white privilege. See @Rachel Cargle's white supremacy triangle. Minimizing systemic oppression = supporting white supremacy. So is indifference. If you feel defensiveness rise up, it's time to turn that energy into seeing your privilege and doing some personal deep work. I love this quote from @rachel.cargle, "White privilege isn't a stab at your character it's a reminder of the world we live in. Acknowledging it proves a shift in our culture. Dismissing it twits the knife in our country's already wounded system."
Let me say it again. WHITE PEOPLE CANNOT BE OPPRESSED.
And it's ok and needed to call out misconceptions of how systemic racism works.
On a personal note, there's been jokes and comments that I hate white people. That's so not true! Just because I call out an oppressive system, doesn't mean that I hate white people. I hate the inequality and the lives that's it's taken, and I hope you do too. At the end of the day it's striving for dignity and equality for all people - addressing it from both an individual and systemic level. I hope that my heart comes across. There is so much more for me to learn and change, and that there is still a far way for me to go.
I have many articles that I've read about this that are really helpful. DM if you're interested!
......
#TWmemorymondays: A painting inspired by a memory every Monday of 2018. Connecting abstract art to real life. Week 47/53. 'Reverse' / 8x8 in / mixed media on paper
happy holidays
from me to you!